Materials

Washable cover

Every Pouch comes with a soft, durable cover that is fully removable and washable, with a comfy quilted seating area.

T&N Adaptive® foam

We specially formulated our own proprietary foam to have enough support for sitting or lounging all day in this beanbag.

Polyester fiber

We mixed these fibers in with our foam shreds so the foam doesn't stick or clump together.

Locking zipper

A locking inner zipper secures our easy-to-remove cover, so the insides stay in, and crafty little fingers or sneaky paws stay out.

Care

Remove the outer cover from the Pouch and throw into the washer solo or with like colors.
Machine wash on delicate cycle, use mild detergent if necessary.
Tumble dry low.

Our Pouch ships free, directly to your doorstep compressed, vacuum-sealed, and packed in a conveniently-sized box.

Most of the time, our Pouch ships between 1 to 5 business days.

Warranty

We have made a product that we believe in so much that we offer the easiest warranty we could come up with. We offer a 3-year limited warranty that covers manufacturing and workmanship defects in the Pouch. The cover is also included in the warranty. If you notice loose stitching, a broken zipper, or anything else out of the ordinary, simply reach out to us at help@tn.com or (877) 842-2586 and we'll work with you to find a solution.

Returns

All of our products come with a 100-Night Sleep Trial, and a hassle-free return process. If our pouch isn't meeting your expectations, simply reach out to us at help@tn.com or (877) 842-2586.

GREENGUARD Gold

The entirety of our Pouch received the UL GREENGUARD GOLD certification, signifying that our product satisfied the strictest chemical emissions standards tested for by UL Environment, a unit of Underwriters Laboratories, a global safety-consulting and certification company.

CertiPUR-US®

Our Pouch has passed the strict regulations of CertiPUR-US®, which found that our foam is low in volatile organic compounds (VOCs) emissions for indoor air quality. Additionally, the CertiPUR-US® certification means that our foam tested free of known harmful chemicals, including ozone depleters, carcinogens, and PBDEs.

Intertek's Clean Air Certification

Our Pouch has been awarded Intertek's Clean Air Certification which tests and certifies products specifically for indoor air quality compliance to LEED EQ Low-Emitting Materials credit.

How long does the Pouch take to fully expand?

The Pouch is shipped compressed in a small box, so it will take some time to rebound to its normal size. Please allow 48 hours to fully expand.

What is the weight capacity?

The Pouch is not intended for individuals over 300lb.

Is the cover waterproof?

The Pouch is not waterproof, so we recommend that you do not keep it outdoors or expose it to liquid. If liquid is spilled on the Pouch, remove the outer cover and hang to dry, then dab the inner cover until it is dry.
The best seat in the house.
Your new favorite chair could very well be a bean bag.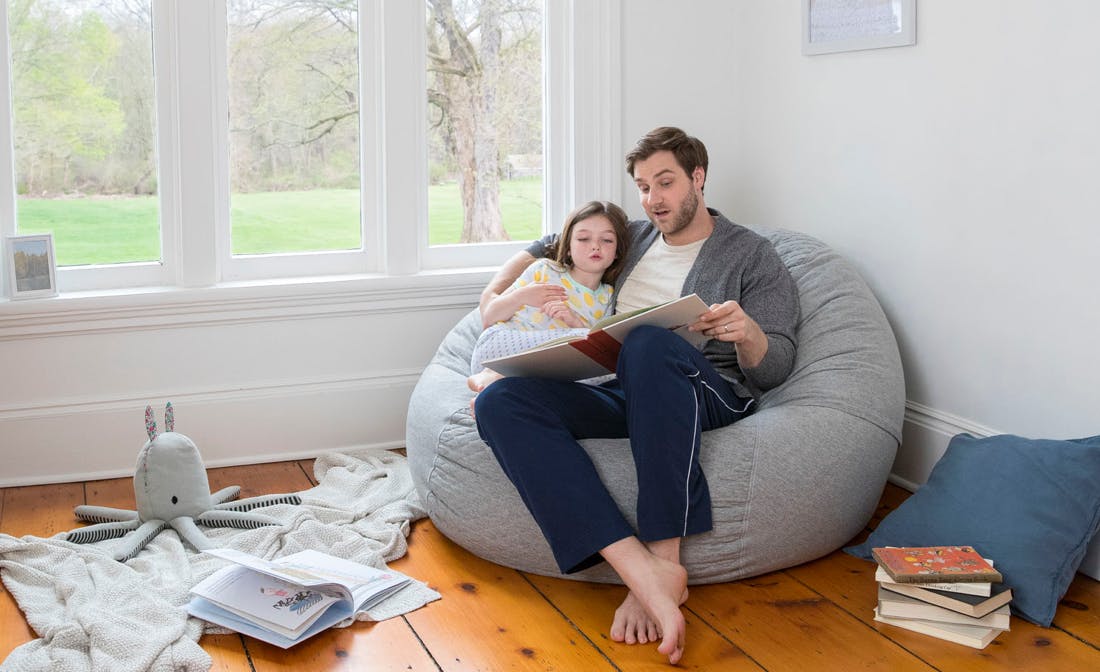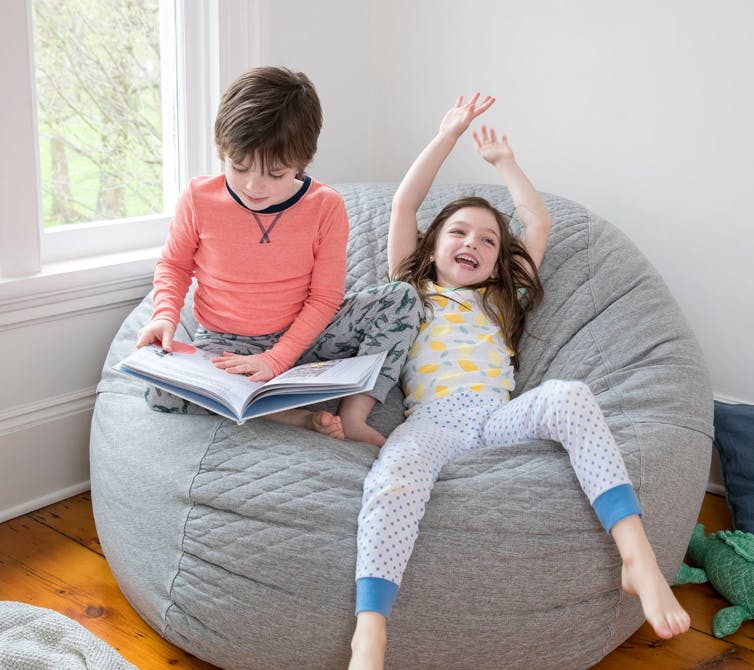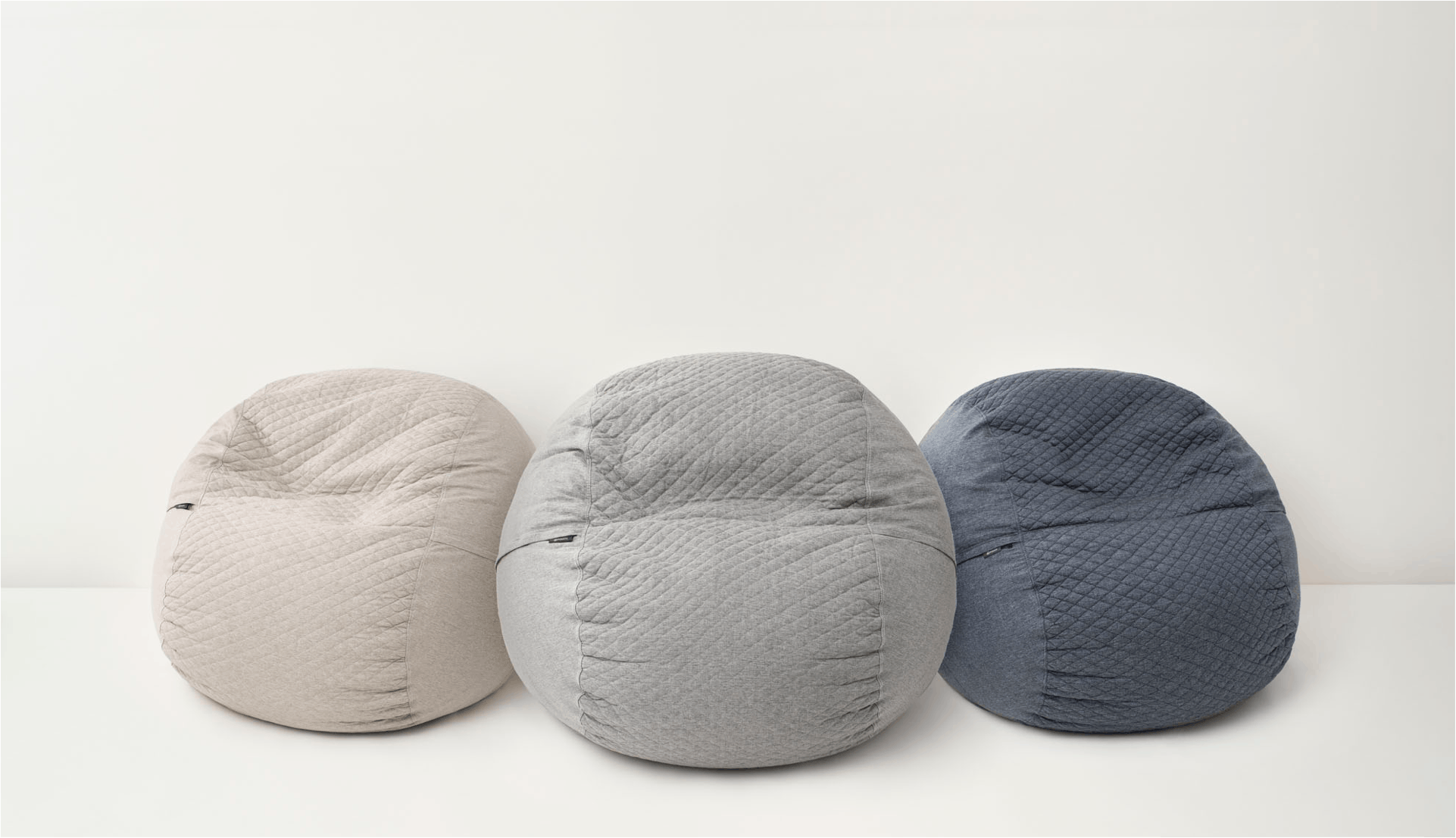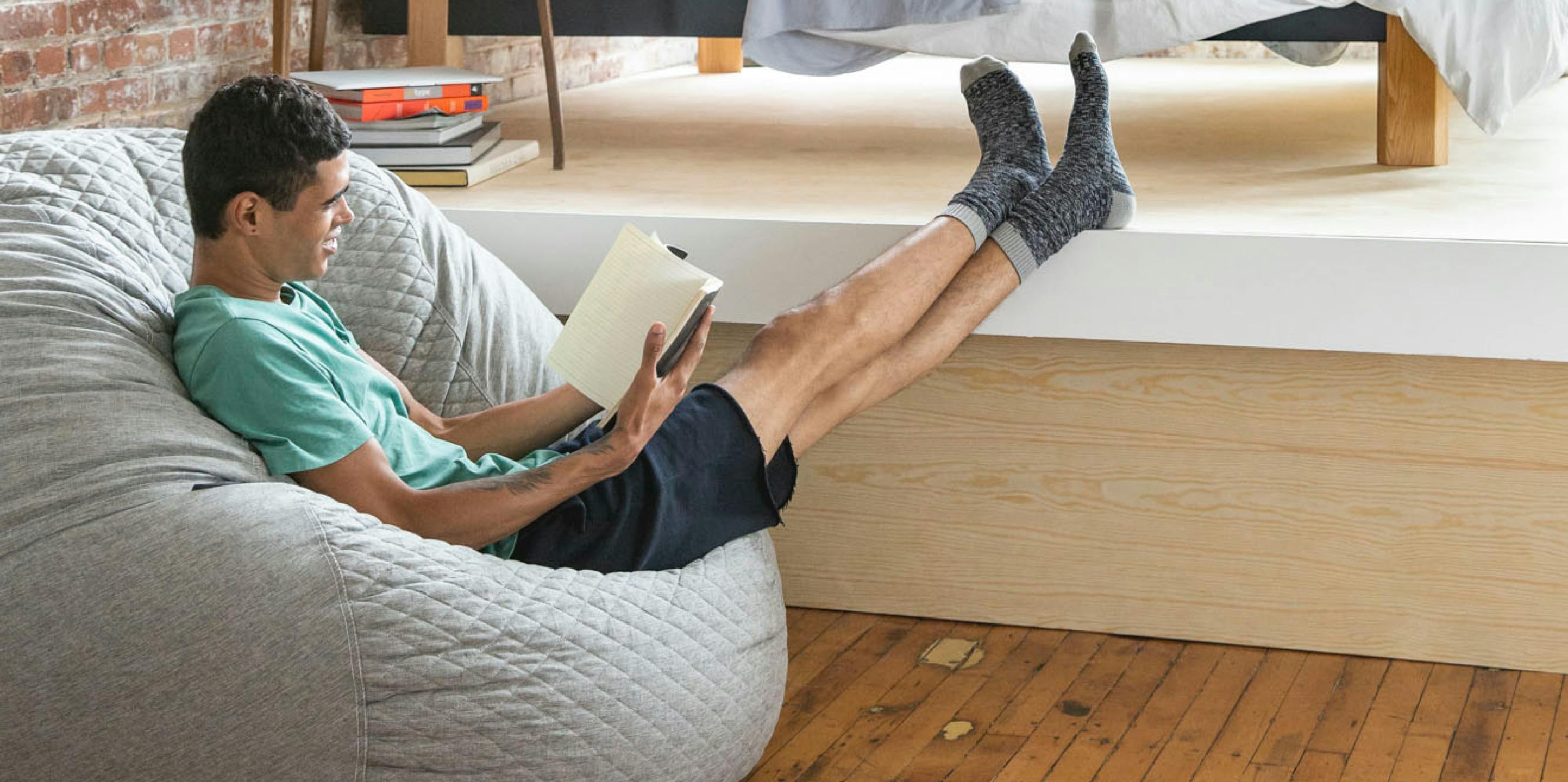 See others leaving tired in their wake.
Tag your own photos @tuftandneedle #mytnstory
youmustlovelife

Happy Friday, loves! I added some cozy quilted velvet throw pillows to our bedroom and even more plants & candles (because can you really have too many plants & candles?). I love lighting the candles at night to create a soft glow in our bedroom. It somehow makes it feel warmer, even though it's been super chilly in NYC.

➖ P.S. Speedy has been loving our new @tuftandneedle mattress…

the_shine_house

We know how painful grief, betrayal, trauma, loss, and disappointment is...

•

We also know there's a path out. And for us, it started with reconnecting to each other, ourselves, and God...

•

This space has been created to serve you in finding reprieve, strengthening…

cupoftj

On cloud nine with my @tuftandneedle mattress ☁️. Adaptive foam for the most comfortable sleep while I dream about pizza 🍕. 100-night trial and 10-year warranty but I'll never give it back cause it provides great pressure relief after I eat 5 bowls of noodles 😴. The most affordable pricing so I can still spend money on extra guacamole 🥑…

erikacarlock

So happy to be back to this bed after traveling! We've been sleeping with our @tuftandneedle mattress for a few weeks now and we're so happy with it. I'm waking up better and feeling so rested. Tbh the worst part about this mattress is that it is TOO comfortable, and I've slept through my alarm more than I'd like to admit. OOPS! #ad #casalaurelcanyon

abbeybellacavalir

I'd say it's about time I got my own big girl #bed.

I'm loving the pure comfort of my @tuftandneedle mattress. The Adaptive Foam helps me sleep cool, while providing support. You can sleep on your Tuft and Needle mattress for 100 nights before you decide to keep it, and it comes with a no-hassle 10-year warranty…

pennymadehome

We had success with our son's @tuftandneedle mattress and now we got to try their new Mint mattress! The Mint has all that you love in the T&N mattress but also features 30% more cooling beads, added edge support and an ultra plush, charcoal knitted cover. I'll be showing more of the Mint on my stories today, so swing over there to check it out! #wakeupbetter #sponsored
Follow along:
Our promise to you.
We disrupted a $15 billion industry armed with two things: an amazing product and an incredible customer experience. Today, we continue to make thoughtfully-designed products to make sleep a priority for our customers so they Wake Up Better™.
We believe your experience is of the utmost importance, which is why you can always rely on the Tuft & Needle Promise.
Our Brand Values
100-night trial

Hassle-free limited warranty

Quick, simple financing

Free shipping and returns*

Award-winning customer service
*Additional fees may apply in AK and HI.