Pillows
Travel and bed pillow options to provide support for any type of sleeper.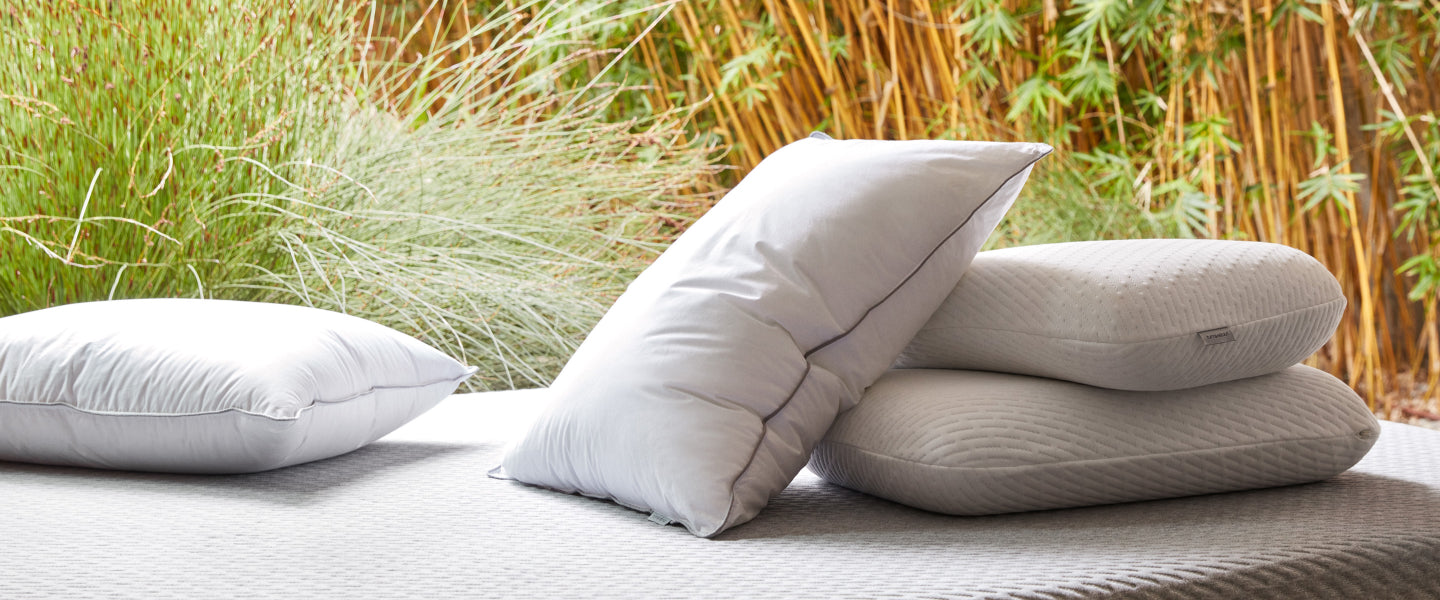 The Perfect Pillow for the Perfect Sleep
Pillows are essential to a great night's sleep but we know that your pillow preference is extremely personal. That's why we spent a long time developing and iterating on the pillows we offer.
Available online and in-store in Standard, King, Euro and Body sizes, you're sure to find the support, feel and size option that will set you on the right path to start waking up awake every morning.
FREQUENTLY ASKED QUESTIONS
How do I choose the right pillow for me?
To select the best pillow for you, consider its fill options. For tossers, turners, and rough sleepers alike, opt for foam support that will conform to your body—no matter the position it assumes. For back and side sleepers, or those who prioritize cool temperatures, down pillows' temperature-regulating materials and light, plush feel promise a sound sleep and an ache-free morning. And for those concerned about allergens? The down alternative pillow's hypoallergenic fill gives you the featheriness of down without the threat of allergies.
What's the difference between standard size and king size pillows?
A standard size pillow is approximately 9-10 inches shorter in length than a king size pillow but generally are the same size in width.
European pillow vs standard and do you sleep on Euro pillows?
Euro pillows are square in shape where standard sized one are rectangular and fit standard size pillowcases. As far as sleeping on a European pillow, you certainly can but this size is mostly used for decorative purposes and to provide head and back support when reading or watching TV.
How often should pillows be replaced?
In an ideal world you would replace your pillows every few years but this time frame can vary based on several different types of factors. If your pillow is showing any of the following signs, it is probably time to part ways.
Noticeable lumps in the foam or filler materials
Permanent stains from body sweat and oil
You start waking up with aches and pains in your neck and shoulders
You are sneezing or wheezing more often when in bed
You constantly have to fluff your pillow to get comfortable (feather pillows)
You fold the pillow in half and it stays that way instead of expanding back out (feather and cotton pillows)
Can I wash my pillows?
The short answer is mostly yes, but not always. Learn more about how to wash pillows here.
Why Tuft & Needle
Knowing sleep is essential to wellness, we offer everything you need to take care of yourself and wake up awake.
Innovative design
We're advancing sleep technology with materials like our own cooling, more contouring Adaptive foam—and by constantly iterating.
100-night trial
We offer our trial and free returns as reassurance, but if you're looking for more—95% of our customers keep their T&N products.
Hassle-free warranty
As a mattress company we stand behind our products. That's why our mattresses come with an easy-to-use 10-year limited warranty.
Visit our shops
Want to test our products before you buy? Our Sleep Ambassadors will offer you a personalized, no-pressure in-store experience. Don't live near a T&N shop? Learn where else you can find us!