Dog Beds
Durable, comfortable pet beds fit for your best friend.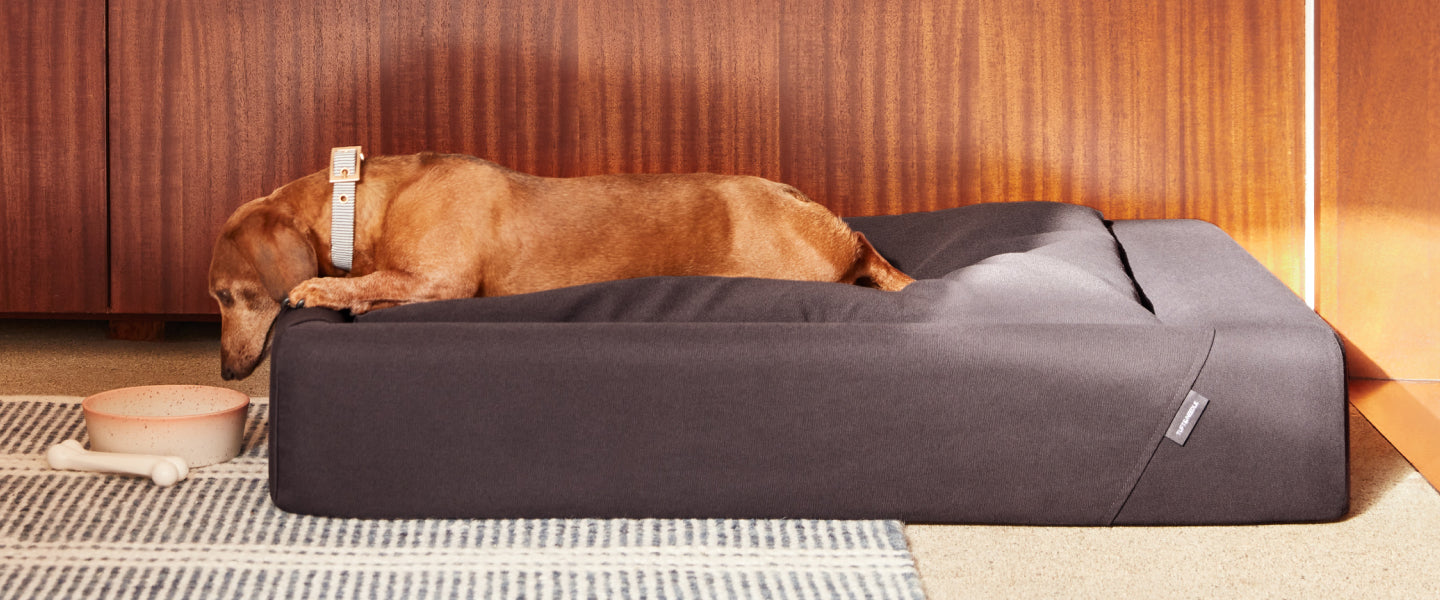 Treat Your Pet to the Best Night's Sleep
Designed with your dog in mind, dog beds—like the Tuft & Needle round or rectangular options online—give your pets the soft comfort of a mattress in a fraction of the space. They're practical and plush, with key features like foam inserts and washable, removable covers. And when you want to give your pet a taste of luxury on the go? Both pet beds can pack and travel with you wherever you go. They also make great foam crate pads! Whether they're snuggled next to you or lounging on their own, a doggy bed gives your furry friend their own mattress to sleep soundly on through the night (and day). Afterall, dogs sleep so much, they can sleep on average 12 to 18 hours a day.
Do dogs need a dog bed to sleep on?
Doggy beds are definitely optional as most dogs can fall asleep anywhere but having a comfortable, supportive bed to sleep on can be better for their muscles and joints.
How do you know what is the right dog bed size for your furry child?
The size of dog bed you need depends on your dog's size and sleeping preferences. Measure your dog from nose to tail and add a few inches to determine the appropriate size. Look for a bed that's big enough for your dog to stretch out, but not so big that they feel lost in it. Most dog beds come in standard sizes: small, medium, large, and extra-large.
Read more, here.
What should I look for when buying a dog bed?
When buying a dog bed, look for one that's the right size for your dog, made from high-quality materials, and designed to meet your dog's specific needs. Consider the bed's shape, filling, and support, as well as features like washability and durability. Read reviews and choose a reputable brand to ensure you're getting a high-quality product that will last.
How do you clean a Tuft & Needle pet bed?
For the Rectangular Dog Bed:
To wash base cover and cushion cover, remove and machine wash in cold water with like colors on gentle cycle. Avoid harsh chemical cleaners; do not bleach. Line dry only to prevent shrinkage. Do not iron or dry clean.
Do not wash foam dog bed base or top cushion insert.
For the Essential Round Dog Bed:
Remove cover from insert before washing; Machine wash cold water with like colors, on gentle or delicate cycle; Line dry only; Allow cover to dry completely before using
Do not use bleach or harsh detergents; Do not machine dry; Do not iron; Do not dry clean; Do not wash insert
Why do dogs scratch their beds?
Dogs scratch their beds for a few reasons, and it's actually a completely normal behavior. One reason is that dogs have an instinct to dig and create a comfortable spot to rest. Scratching at the bed can help them create a cozy spot that feels just right. Another reason is that scratching can help dogs mark their territory and leave their scent behind. When they scratch at their bed, they are essentially saying "this is my spot." Finally, some dogs may scratch at their bed simply because it feels good or provides sensory stimulation. It's important to provide your dog with a comfortable and appropriate place to sleep, such as a soft dog bed or crate, so that they feel secure and happy in their designated sleeping area.
How do I stop my dog from peeing on my bed?
First, make sure you thoroughly clean the area where they peed. Next, start by taking your dog outside more frequently than you have been, and especially right before you go to bed. Then positively reinforce when they pee where they are supposed to by giving them a treat or two and praising them. If those few things don't work you can restrict access to the bedroom by either installing a baby gate or keeping the door closed, consider crate training and try using deterrents which can be bought at your local pet stores.
Remember consistency and patience are going to be key here when you are trying to change your dog's behavior. With time and effort, you can successfully train your dog not to pee on your bed.
How do I stop my dog from peeing on their dog bed?
If your dog is peeing on their own bed, there may be a couple of reasons why that is happening. First, just make sure that they are getting enough opportunities to go outside. If they are not, they may be using their bed as a substitute bathroom.
If your dog has plenty of outside time and is still using their bed as a bathroom, it's possible that they have a medical issue such as a urinary tract infection or incontinence. A vet can rule this out.
In the meantime, make sure you wash the bed thoroughly and positively reinforce the behavior of peeing where they are supposed to.
Why Tuft & Needle
Knowing sleep is essential to wellness, we offer everything you need to take care of yourself and wake up awake.
Innovative design
We're advancing sleep technology with materials like our own cooling, more contouring Adaptive foam—and by constantly iterating.
100-night trial
We offer our trial and free returns as reassurance, but if you're looking for more—95% of our customers keep their T&N products.
Hassle-free warranty
As a mattress company we stand behind our products. That's why our mattresses come with an easy-to-use 10-year limited warranty.
Visit our shops
Want to test our products before you buy? Our Sleep Ambassadors will offer you a personalized, no-pressure in-store experience. Don't live near a T&N shop? Learn where else you can find us!