Down Duvet Insert
The luxury and natural warmth of down without the typical price tag. 
$215
Color
Starting at $x/mo with Affirm. Learn more
See in store
Check your zip code to see stores near you. Check locations
Dimensions

| | | |
| --- | --- | --- |
| | Insert | Shipping Box Size |
| Twin / Twin XL | 88"L X 68"W | 20"L X 19"W X 13"H |
| Full / Queen | 98"L X 98"W | 20"L X 19"W X 13"H |
| King / Cal King | 98"L X 116"W | 20"L X 19"W X 13"H |

Twin / Twin XL

88"L X 68"W

King / Cal King

98"L X 116"W

Box Size20"L X 19"W X 13"H

Note: Our duvet is purposefully oversized because our significant others were tired of losing the nightly battle for the covers.

Materials

North American Down Feathers

Our down is humanely-sourced and Responsible Down Standard Certified for guilt-free sleep.

100% Cotton Shell

Breathable Cambric cotton allows for a cool, breezy sleep with just right amount of warmth.

Baffle Box Construction

Considered construction prevents down from clumping and sagging, maintaining an even fill.

Oversized Dimensions

Our duvet inserts are intentionally oversized to give you that fluffy, ultra-luxe catalog look.

Care

Wash in cold water with mild detergent.
Tumble dry on lowest heat, this may take a few cycles.
Toss in dryer balls or clean tennis balls to fluff the duvet.

Shipping

Ships free in a conveniently-sized box directly to your doorstep in 2 to 5 business days.

Warranty

We have made a product that we believe in so much that we offer the easiest warranty we could come up with. We offer a 2-year limited warranty that covers manufacturing and workmanship defects in the duvet insert. If you do notice anything out of the ordinary, simply reach out to us at help@tn.com or (877) 842-2586 and we'll work with you to find a solution.

Returns

All of our products come with a 100-Night Sleep Trial, and a hassle-free return process. If our duvet inserts aren't meeting your expectations, simply reach out to us at help@tn.com or (877) 842-2586.

Standard 100 by OEKO-TEX®

The most rigorous of the certifications offered by the OEKO-TEX® Association, the Standard 100 by OEKO-TEX® means that our sheets are tested free from harmful levels of more than 300 concerning chemicals, including formaldehyde.

Cruelty-free | RDS certified down fill

Responsible Down Standard verifies animal welfare practices and land management on farms with ducks and geese raised for the production of down. The standard tracks wool from certified farms to the final product.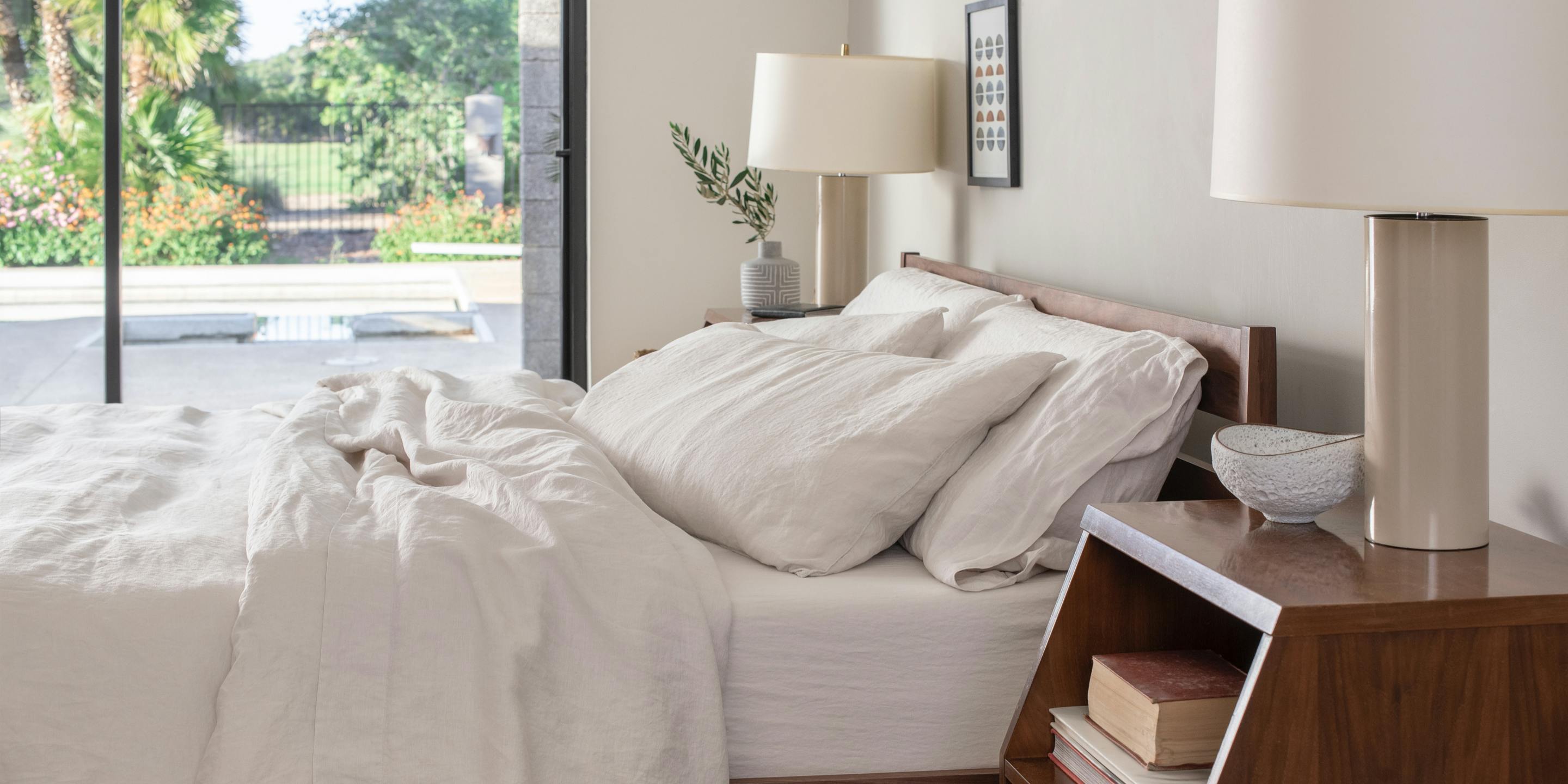 See others leaving tired in their wake.
Tag your own photos @tuftandneedle #mytnstory
youmustlovelife

Happy Friday, loves! I added some cozy quilted velvet throw pillows to our bedroom and even more plants & candles (because can you really have too many plants & candles?). I love lighting the candles at night to create a soft glow in our bedroom. It somehow makes it feel warmer, even though it's been super chilly in NYC.

➖ P.S. Speedy has been loving our new @tuftandneedle mattress…

the_shine_house

We know how painful grief, betrayal, trauma, loss, and disappointment is...

•

We also know there's a path out. And for us, it started with reconnecting to each other, ourselves, and God...

•

This space has been created to serve you in finding reprieve, strengthening…

cupoftj

On cloud nine with my @tuftandneedle mattress ☁️. Adaptive foam for the most comfortable sleep while I dream about pizza 🍕. 100-night trial and 10-year warranty but I'll never give it back cause it provides great pressure relief after I eat 5 bowls of noodles 😴. The most affordable pricing so I can still spend money on extra guacamole 🥑…

erikacarlock

So happy to be back to this bed after traveling! We've been sleeping with our @tuftandneedle mattress for a few weeks now and we're so happy with it. I'm waking up better and feeling so rested. Tbh the worst part about this mattress is that it is TOO comfortable, and I've slept through my alarm more than I'd like to admit. OOPS! #ad #casalaurelcanyon

abbeybellacavalir

I'd say it's about time I got my own big girl #bed.

I'm loving the pure comfort of my @tuftandneedle mattress. The Adaptive Foam helps me sleep cool, while providing support. You can sleep on your Tuft and Needle mattress for 100 nights before you decide to keep it, and it comes with a no-hassle 10-year warranty…

pennymadehome

We had success with our son's @tuftandneedle mattress and now we got to try their new Mint mattress! The Mint has all that you love in the T&N mattress but also features 30% more cooling beads, added edge support and an ultra plush, charcoal knitted cover. I'll be showing more of the Mint on my stories today, so swing over there to check it out! #wakeupbetter #sponsored
Follow along:
Our promise to you.
We disrupted a $15 billion industry armed with two things: an amazing product and an incredible customer experience. Today, we continue to make thoughtfully-designed products to make sleep a priority for our customers so they Wake Up Better™.
We believe your experience is of the utmost importance, which is why you can always rely on the Tuft & Needle Promise.
Our Brand Values
100-night trial

Hassle-free limited warranty

Quick, simple financing

Free shipping and returns*Additional fees may apply in AK and HI.

Award-winning customer service