Loftie Smart Alarm Clock
An alarm clock full of evolved features to help you sleep better and wake up more naturally.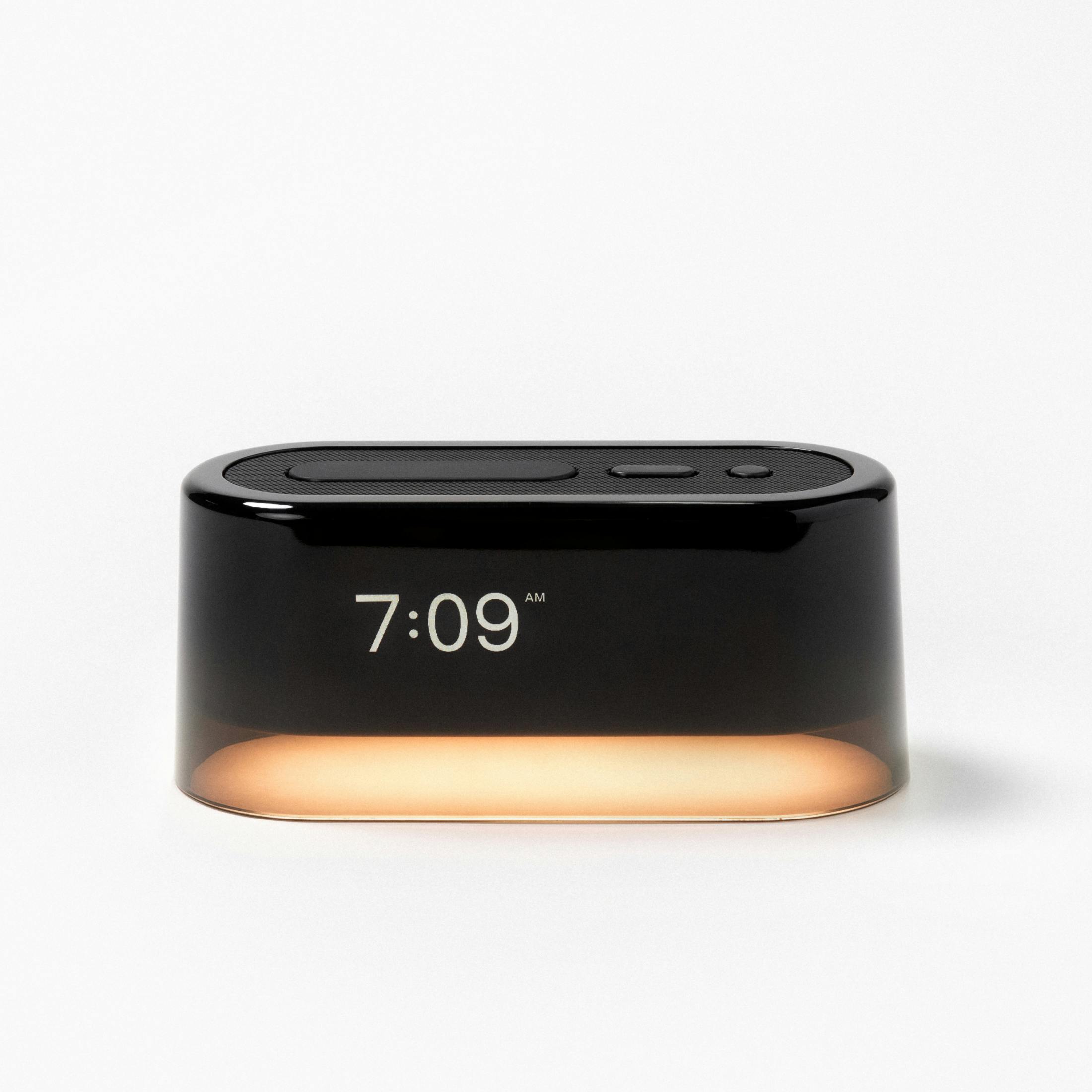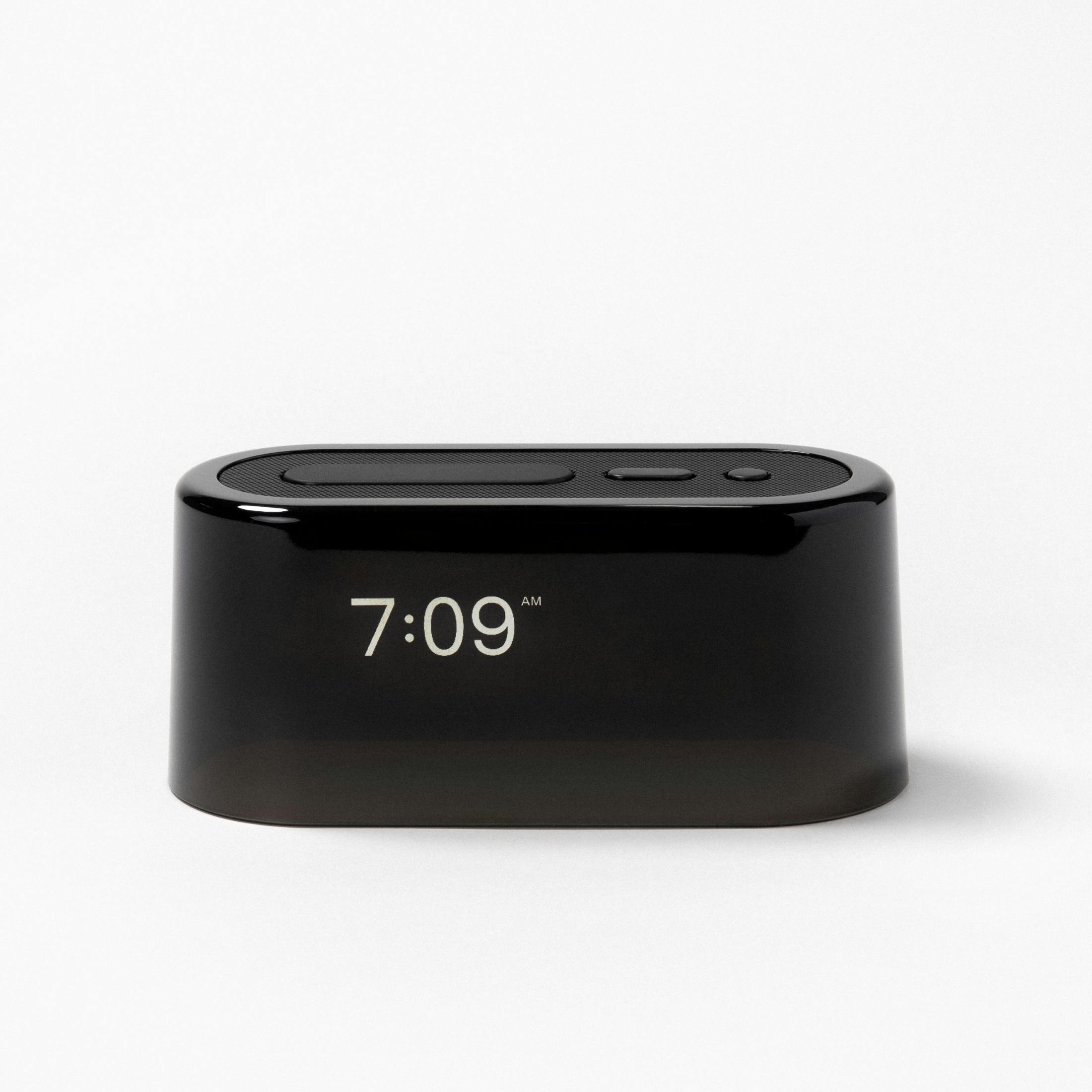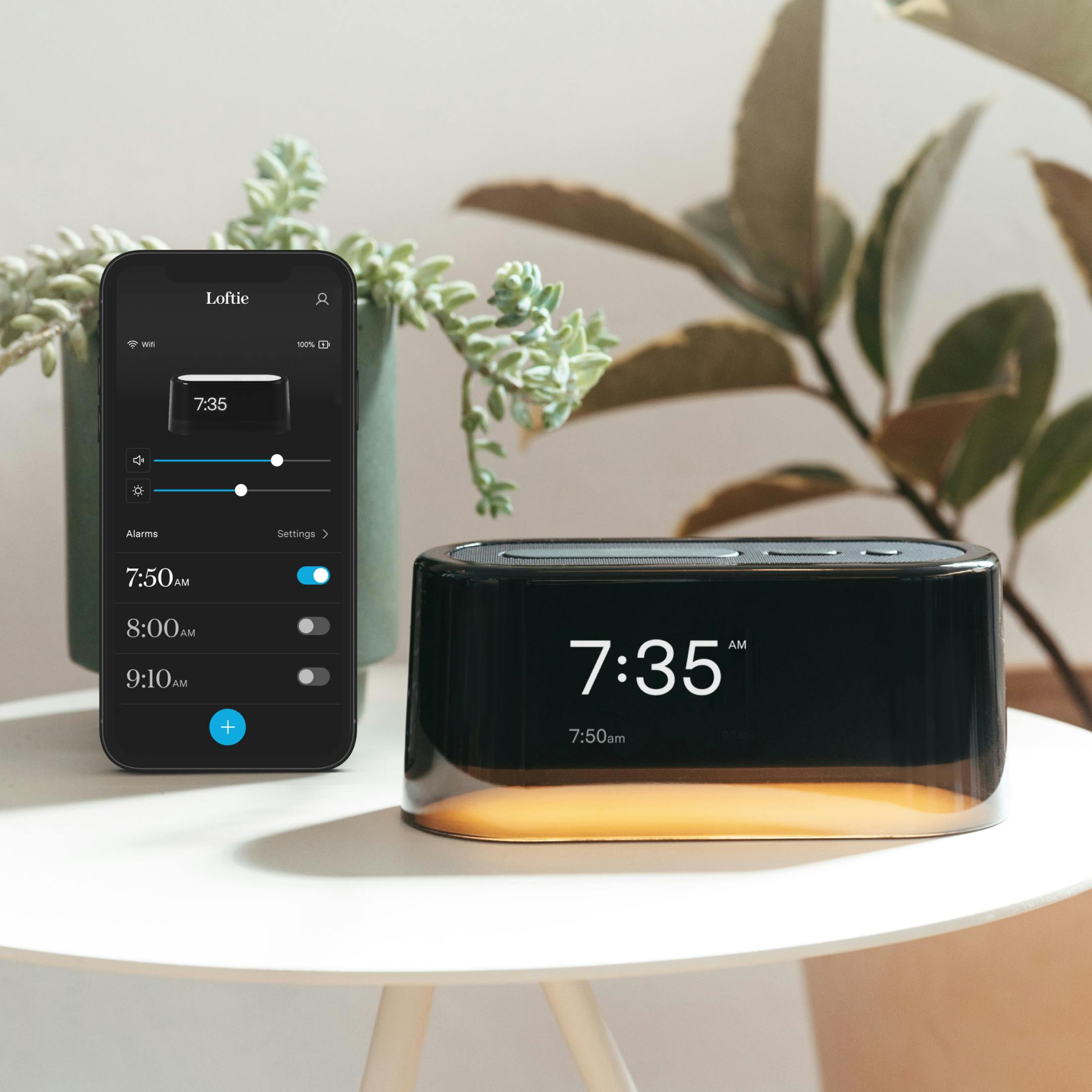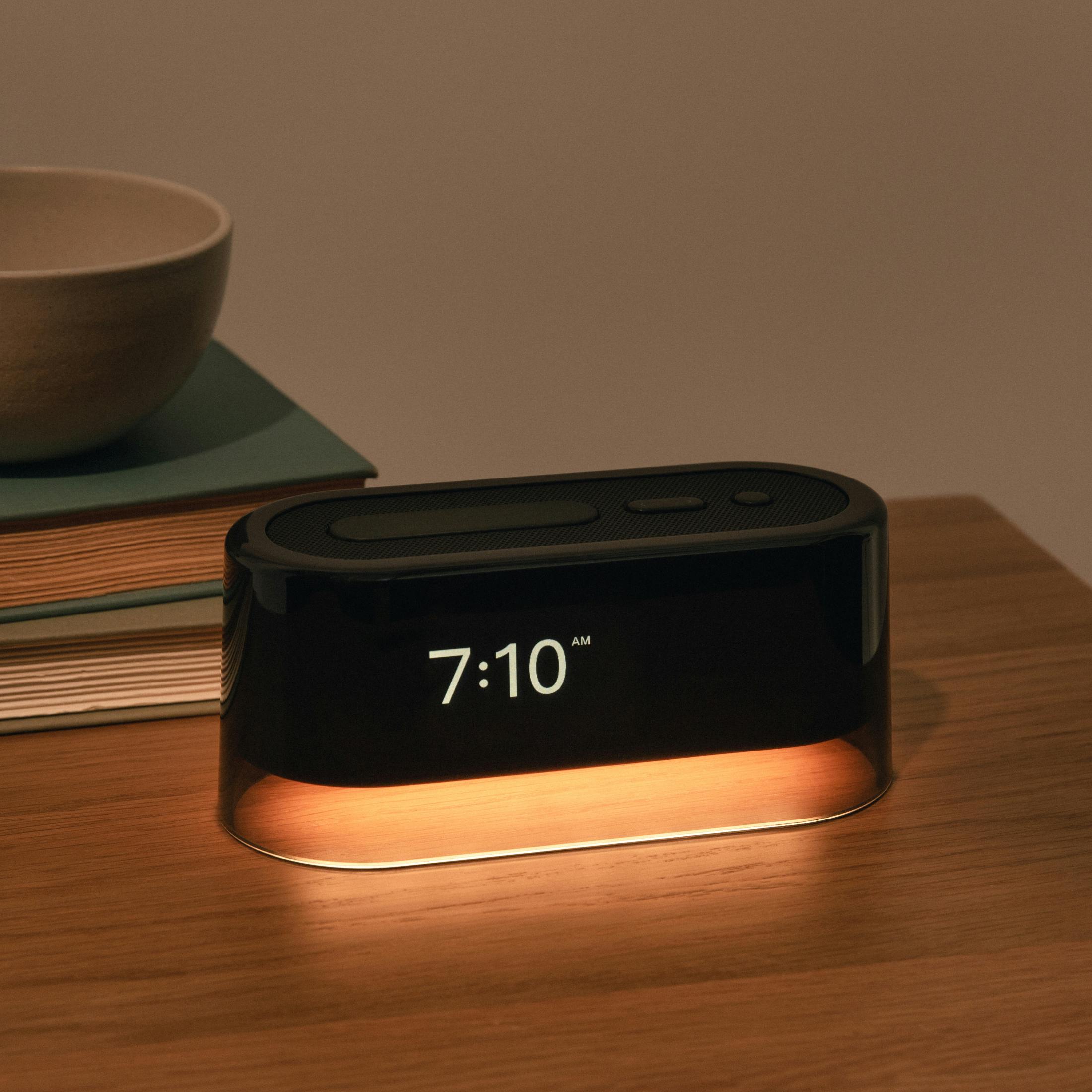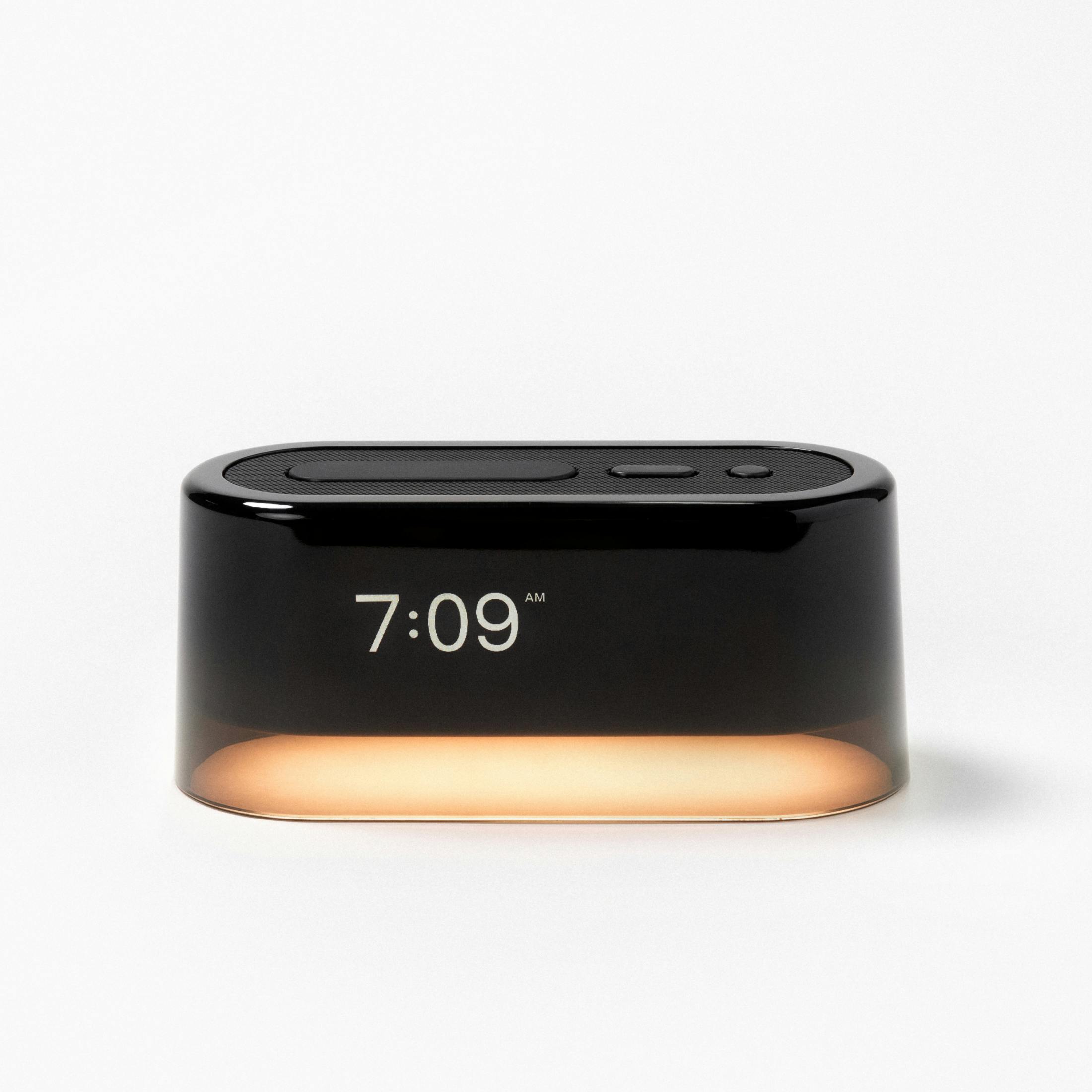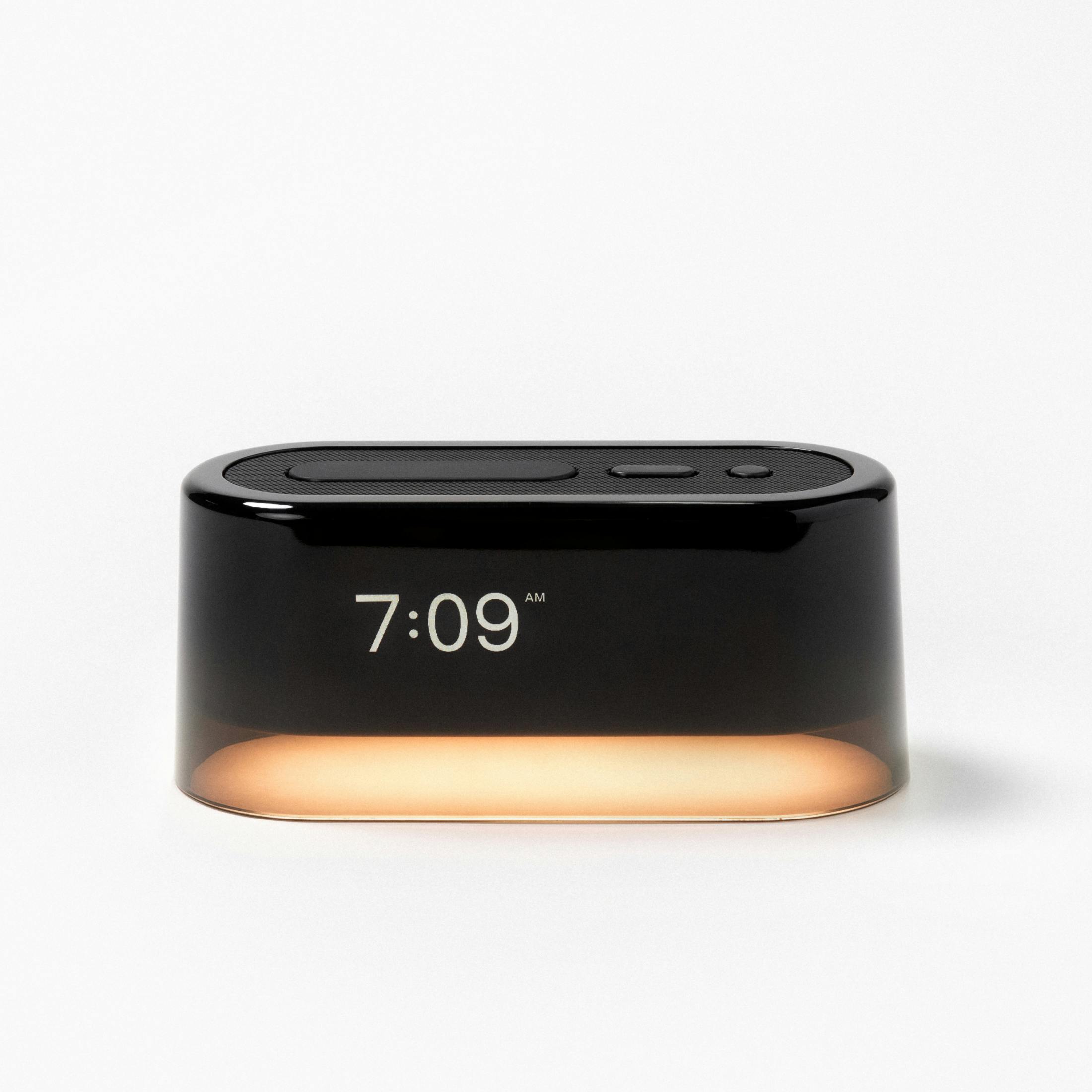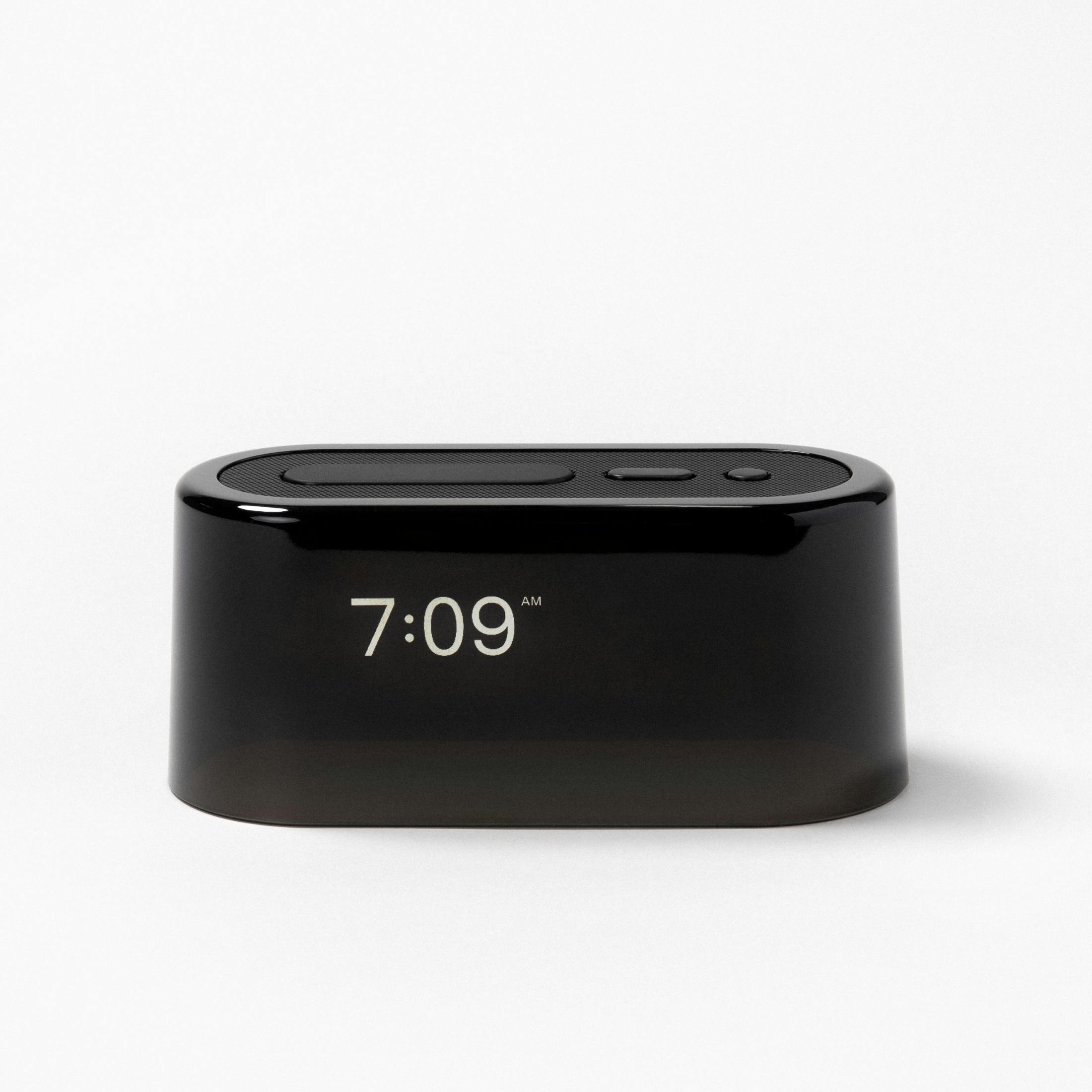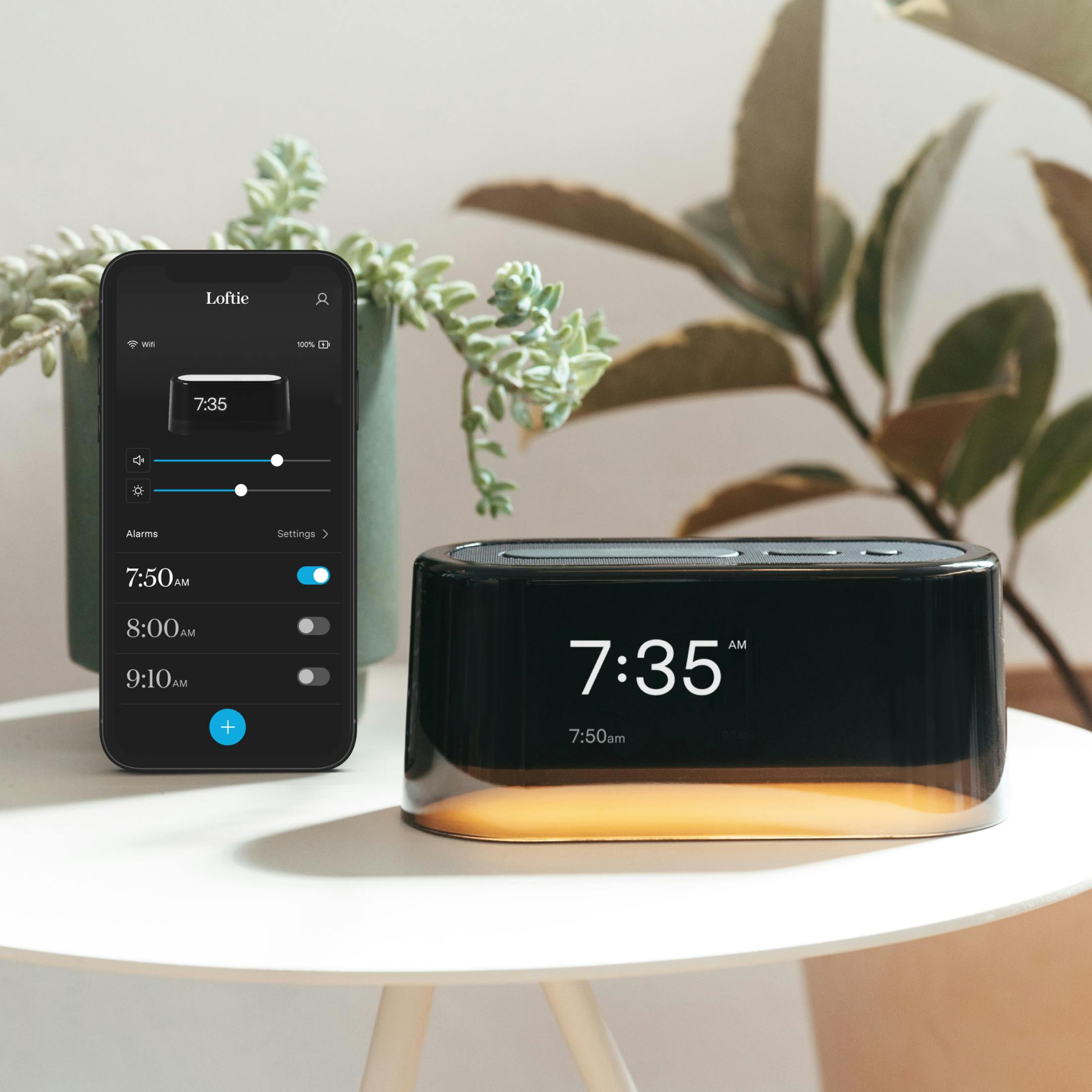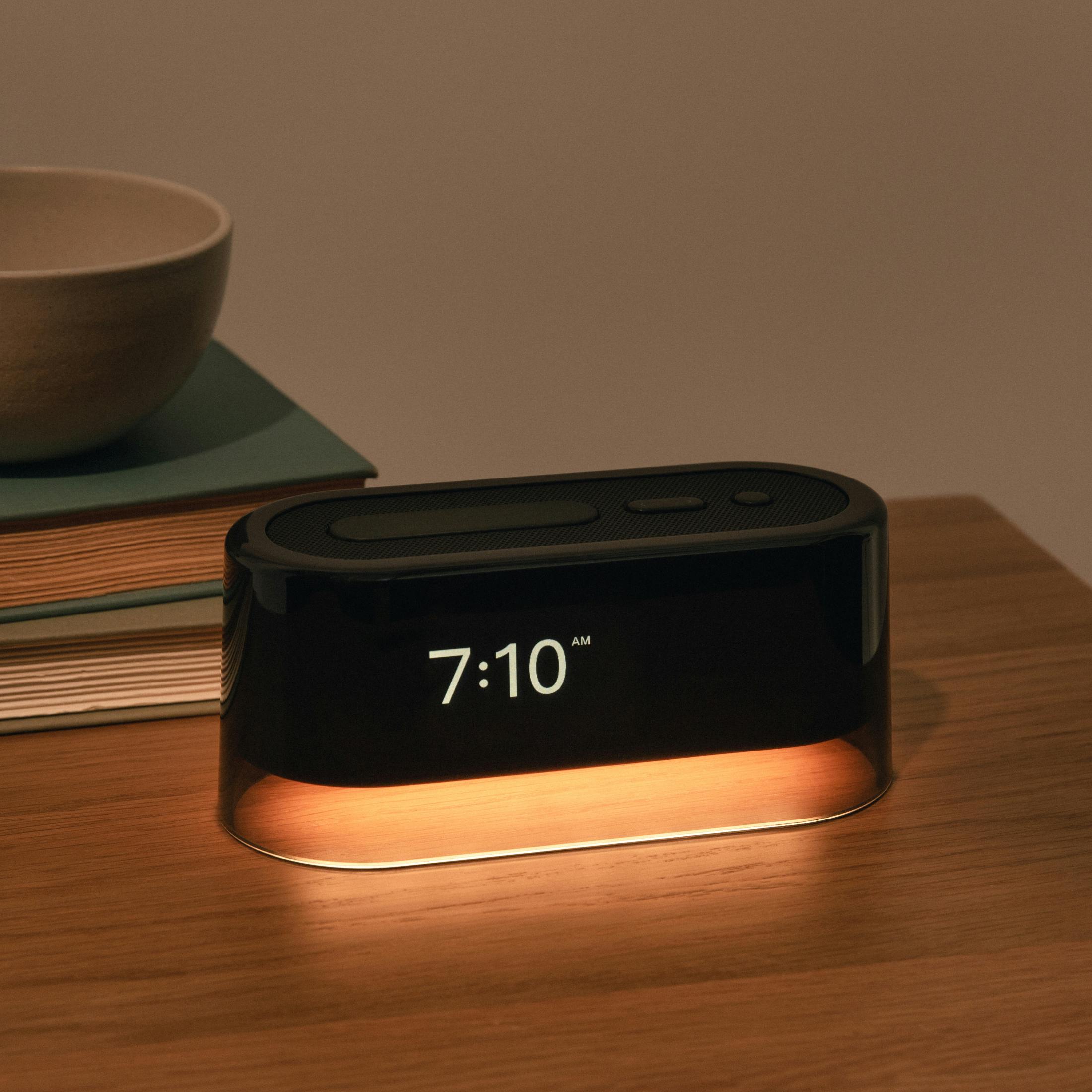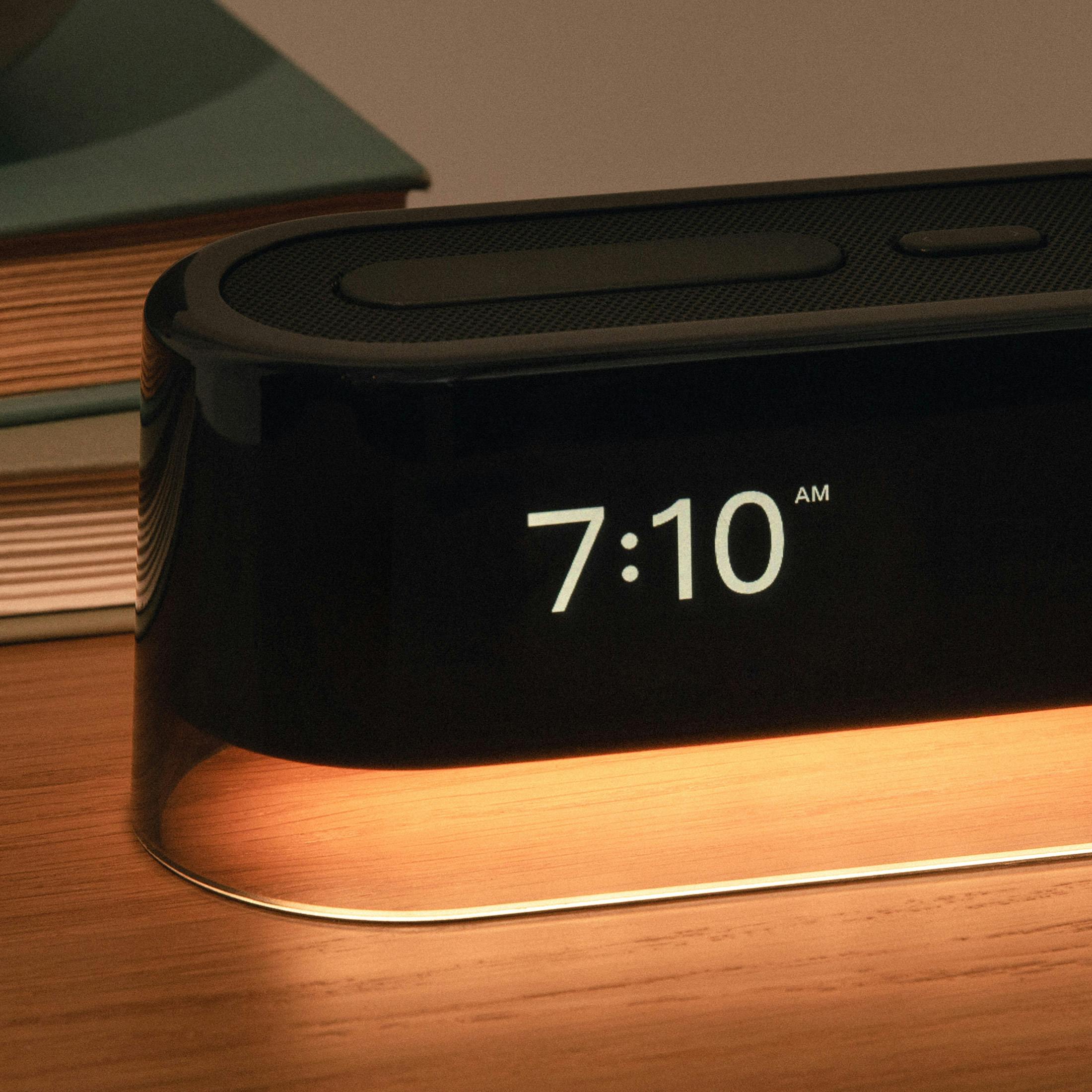 Details
Two-phase alarm for natural wake up
White noise, stories, and sound baths to help you drift off
Warm glow nightlight and Bluetooth speaker function
Ships free via FedEx to your doorstep in 3 to 7 business days.
Eliminate your phone from your sleep routine with Loftie. The Loftie uses a two-phase alarm system designed for the way we really wake up. The first sound gently stirs you awake while the second gets you out of bed. It also features sound baths, breathwork, and stories to help you drift off. Set up and features are available on the companion app, or control directly on your nightstand so that you can avoid blue light and technology when you should be winding down at night. Make waking up more naturally and getting to sleep more easily a priority, with the many evolving features and functions of Loftie right on your nightstand.

Dimensions

Standard

2"W X 6"L X 2"H

2 Lbs

Box Size 6"W X 10"L X 4"H

| | | | |
| --- | --- | --- | --- |
| | Dimensions | Shipping Box Size | Shipping Weight |
| Standard | 2"W X 6"L X 2"H | 6"W X 10"L X 4"H | 2 Lbs |

Materials

Materials

Polycarbonate shell
Steel top grill
Lithium-ion battery

Care

Clean with a dry, soft cloth.
If additional cleaning is needed, unplug and wipe down with a lightly damp cloth.
Make sure Loftie is completely dry before plugging back in.
Do not use household cleaners, solvents, or abrasives.

Shipping

Ships free via FedEx to your doorstep in 3 to 7 business days.

Returns

All of our products come with a 100-Night Sleep Trial, and a hassle-free return process. If you find that your Loftie Smart Alarm Clock is not working properly, that you need help getting set up, or otherwise have any questions about your device, please contact our support team via email at: support@tn.com.

Warranty

The Loftie Smart Alarm Clock comes with a 1-year limited warranty that covers materials and workmanship defects outside normal wear and tear, provided that the product is used in a home environment. The coverage of this warranty does not include damage occurring after the first year, as a result of normal wear and tear, accidental damage, or when repairs have been made or attempted. If you notice anything out of the ordinary, simply reach out to us at help@tn.com or (877) 842-2586 and we'll work with you to find a solution.

How do I set up my Loftie Smart Alarm Clock?

Step 1: PLUG IN YOUR LOFTIE

The first step is to plug in your Loftie. While Loftie does have an internal battery, it is not meant to run off this battery exclusively—we recommend you use Loftie while plugged in at all times to ensure full functionality. You should hear a little "click" when the USB is properly plugged into Loftie and you should also be able to gently pull it without it coming unplugged. It should feel secure.

Step 2: CONNECT LOFTIE TO WIFI

Now we're going to connect your Loftie to your WiFi network. Loftie gets the time from the internet so this step is essential.

Make sure Bluetooth is enabled on your phone or tablet, and then go to the app and select "Connect a Loftie to WiFi" towards the bottom of the page.

Next, the app will scan for your Loftie. If your Loftie device does not show up, make sure you have Bluetooth set on your phone and scan again. We recommend setting up your Loftie near your router to ensure a strong WiFi signal.

After you select your Loftie, select the WiFi network you want to connect to and enter your network password. When entering your password, make sure there are NO EXTRA SPACES at the end of the password or it will result in a "WiFi Connection Failed" message.

After you enter your password, wait until you see a SUCCESS message on your Loftie's screen before pressing NEXT on the app.

Now your Loftie will update. Updates can take anywhere from five minutes to an hour, depending on the internet speed and the amount of content Loftie needs to update. Leave Loftie plugged in to do its thing. Loftie may restart a few times over the course of the update; this is expected.

After Loftie updates, you should see the correct time on your Loftie and be able to access all content and features. If the time is correct on your Loftie—you are all set!

My alarm didn't go off, what do I do?

Loftie takes alarms very seriously. If your alarm isn't functioning correctly we have a few things for you to try.

Check the alarm volume (which is different from the sound volume). On the Loftie, use the arrow buttons to go to ALARMS > SETTINGS > VOLUME and make sure the volume is up.

Delete all alarms you have set and RESTART your Loftie by holding the small circular button on the top right of the Loftie until the screen blacks out. After that, set a test alarm for a few minutes into the future to ensure your alarm goes off as intended.

Confirm that when you set an alarm, you see it reflected in the lower-left corner of the clockface.

If you set an alarm via the app and it is not showing as being set on the Loftie, we recommend you sign out of the app and sign back in. Then delete all the alarms you have and set a test alarm to ensure your alarm goes off.

If you still experience issues with your alarm, please contact Loftie directly at support@byloftie.com. Please include a screenshot of your order summary. Loftie responds within 2 business days to all inquiries.

How do I set up the Loftie App and pair it to my Loftie device?

Loftie's goal is to make it easy breezy to leave your smartphone behind when you head for the bedroom. The app is designed to complement the Loftie experience and everything you can do on the app is accessible on Loftie itself. All that being said, let us tell you about our app...


Download the App
Apple iOS
Android

App Features
You can control the following on your Loftie from within the app:

Sound volume Nightlight brightness Create and edit alarms Set and unset alarms

The app also displays Loftie's battery level and detects if Loftie is connected to WiFi.

Please note: if you make multiple updates to Loftie in the app quickly, it may take a few seconds to properly sync with your Loftie.

Pairing
After your Loftie is successfully connected to WiFi, click "Start pairing" in the app. Follow the steps to get a pairing code on your Loftie and enter it on the app to sync the two devices.

Pairing Troubleshooting
If you see the message, "Go to App to set up," please select the "Connect a Loftie to WiFi" button in order to complete the initial setup.

Don't see "Get a code?" in your settings? You need to update your Loftie's software in order to proceed. With your Loftie plugged in, select "Power off" from the Settings menu. This will automatically restart your Loftie and begin the update.

Pairing code failed? Confirm the code on your phone matches the code on Loftie or press any button on your Loftie to dismiss the current code and select "Get a code" again to generate a new code.

See a "Check your connection" message? Please restart your Loftie and double-check you have the most up-to-date software. Learn about updates here.

If you are on the most up-to-date software, please confirm the network your Loftie is connected to has a strong connection and is online.

Still no connection? Try reconnecting your Loftie by selecting "Forget WiFi" from the Settings menu. You will need to "Forget Loftie" in your app and choose "Connect a Loftie to WiFi."

Please contact Loftie directly at support@byloftie.com if you're still seeing the message after following these steps. Please include a screenshot of your order summary and any troubleshooting you have tried. Loftie will respond within 2 business days to all inquiries.

Read all FAQs
Product Features
Naturally better sleep.

Two-Phase Alarm

Designed for the way we naturally wake, the first sound gently rouses you and the second gets you out of bed.

Wellness Content

Exclusive sound baths, breathwork, and bedtime stories update automatically when new sounds and features are released.

White Noise

Soothing noises and nature sounds to lull you to sleep and keep you there.

Nightlight

A warm glow from the built-in nightlight gives you all the cozy sleep vibes.

Backup Battery

Always accurate time and reliable alarm—even in the event of a power loss.
Our promise to you.
We disrupted a $15 billion industry armed with two things: an amazing product and an incredible customer experience. Today, we continue to make thoughtfully-designed products to make sleep a priority for our customers so they Wake Up Better™.
We believe your experience is of the utmost importance, which is why you can always rely on the Tuft & Needle Promise.