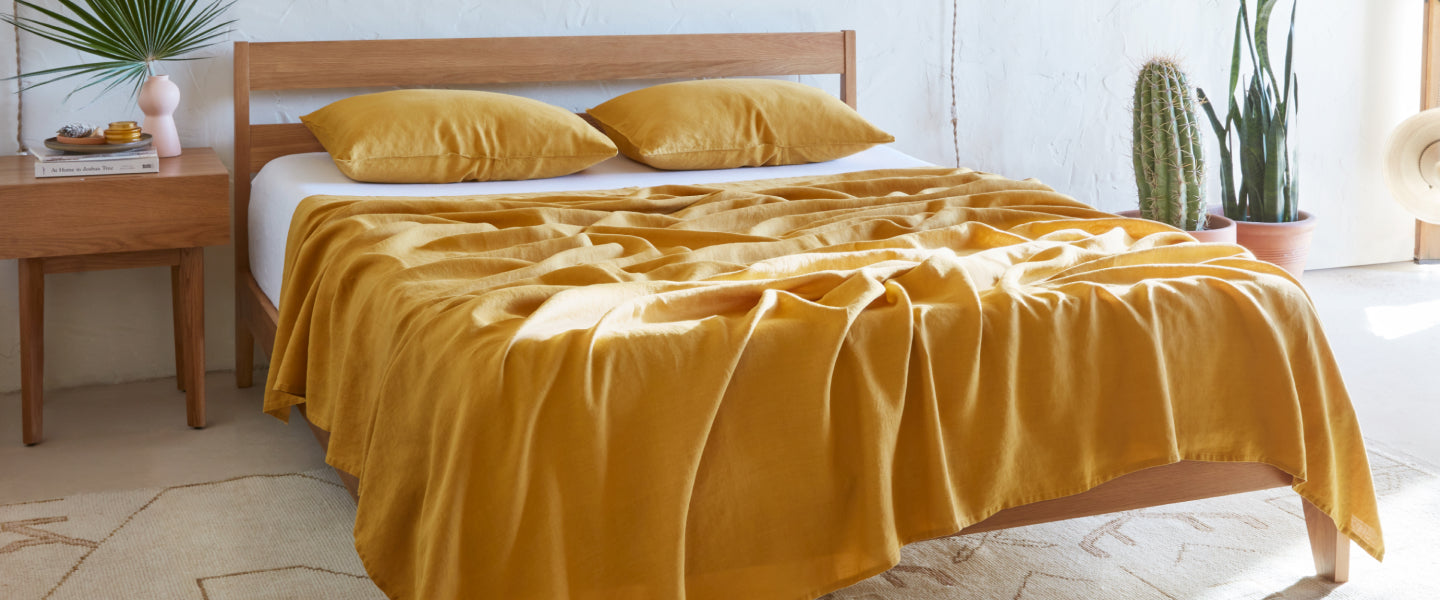 Find the Perfect Sheets for You
No bed is complete without some sheets aka bed linens to lay on. With so many options out there, how do you know which ones are right for you? Well, honestly, it all comes down to personal preference. If you like the cooler, crisper look and feel, you might consider percale or linen. If you like soft and snuggly and want to crawl in bed and feel like they are wearing their favorite t-shirt, you should consider going with jersey. But if you are looking for a soft, breathable, airy fabric to cover your bed and self in, you might want to consider the newer ones added to our collection, hemp. Still not sure which type of bed linens are best for you? Check out some of our frequently asked questions below or give us a call as we are here to help.
What does thread count mean and does it matter?
When talking about thread count, the numbers refer to the number of strands found per square inch of the fabric used to make them. A thread count includes the sum of both the horizontal and vertical threads used. The higher the number the more tightly woven the fabric to make the sheets is. This does not mean though that the higher the thread count the better. When it comes down to it, it's all about the quality of the threads used over the quantity of the threads used.
What size sheets do I need?
The size you purchase should correspond with the size of the mattress you have. So for example, if you have a Queen mattress, you will want to look at Queen sized ones. Tuft & Needle's cotton percale, linen, hemp and jersey sheets come in every size: Twin, Twin XL, Full, Queen, King, and California King.
Why should I buy sheets online?
It's not only easy and convenient, if you purchase from Tuft & Needle they ship free right to your front door and come with a 100-night trail.
Will Tuft & Needle Sheets fit on any mattress?
Yes. Just buy the size that corresponds with your mattress size.
How many different bed sheets should I have for my bed?
At the very minimum you should have at least two sets for your bed, although three is more ideal. This way you can have one set on your bed, be washing another, and have one put away just in case an accident happens.
How often should I wash my bed linens?
Once a week is best. To learn more, click here.
Why Tuft & Needle
Knowing sleep is essential to wellness, we offer everything you need to take care of yourself and wake up awake.
Innovative design
We're advancing sleep technology with materials like our own cooling, more contouring Adaptive foam—and by constantly iterating.
100-night trial
We offer our trial and free returns as reassurance, but if you're looking for more—95% of our customers keep their T&N products.
Hassle-free warranty
As a mattress company we stand behind our products. That's why our mattresses come with an easy-to-use 10-year limited warranty.
Visit our shops
Want to test our products before you buy? Our Sleep Ambassadors will offer you a personalized, no-pressure in-store experience. Don't live near a T&N shop? Learn where else you can find us!